Whether you're remodeling your entire business building, or simply doing a lighting retrofit, finding the right electrical contractor is one of the most important things you need to do for the success and safety of your establishment. Commercial electrical work is a little different from its domestic or residential variants. The former requires specific skills, experience, equipment, and tools, among other things. Hiring a professional contractor like Lightning Mobile Electric can make your life easier and save you money.
Having the right electrical contractor will not only ensure you get an up-to-code and safe electrical system at your business, it will also provide you with a reliable partner that will keep your business up and running should faults arise. However, with all the contractors out there claiming to be the best, choosing one for your business establishment can be daunting. So, how do you narrow your options? Here are some tips to help you find the best electrical contractor for your business.
Get Recommendations
Tips for hiring an electrical contractor (Image Source: Career Builder)
As a business owner, you typically work with different companies and deal with different people on a regular basis. Use your network and ask around for any recommendations. Ask your family and friends, or other business owners. Make sure you inquire about the scope of their projects and their customers. Were they satisfied when the job was finished? You can also visit your local electrical supply and hardware stores and ask about their opinions on different contractors in your area. There's a good chance they have a shortlist of professionals that they regularly recommend to their customers. Many electrical contractors in Denver, for example, are well-known in their local electrical supply stores in Colorado.
It is also important to note that you're not only hiring the business owner. You must choose an electrical contractor that actually conducts thorough background checks on their staff. Obviously, you want to feel safe about the people they send to your business.
Ask About their Experience with Commercial Projects
Commercial electrical projects are different from residential ones. Obviously, you don't want to risk your business establishment's electrical system being installed by poorly trained and inexperienced electricians. Ask about the experience of the contractor's workers with regards to commercial projects. Make sure they can provide you with workers who have all the knowledge, skills, and tools to do the job.
You can also reach out to local groups, local building departments, or to local Chambers of Commerce to help you evaluate the services and quality of work of these contractors.
Ask About their Guarantees and Warranties
A good company will stand behind their work and will go above and beyond to provide you with the best service possible. Thus, choose those companies who take pride in their service. One great way to do this is to ask about their guarantees and warranties.
Guarantees and warranties are testaments of their quality, workmanship, and customer service. If possible, choose companies that offer "satisfaction guaranteed" in their service.
Ask for Their Estimates
You may have heard the horror stories of electricians demanding more money through excess charges, drawn-out timeframes, and unexpected costs. Nothing scares business owners off more quickly than hidden fees. These things can affect your budget and the finances of your business. A good contractor will never do that. Thus, make sure you broach this subject with your contractor.
Ask for price guarantees in writing. These will give you a good idea of how much the electrical work will cost even before the project starts and help prevent unwanted surprises on your budget.
Ask About the Timeframe for the Project
You want your electrical system to be up and running for your business. The timeframe is just as important as pricing and cost. A good contractor will work diligently and efficiently. Therefore, they must guarantee a timeframe. Choose those contractors that offer emergency service 24/7.
Check Their Licensing and Insurance
Remember the saying "you get what you pay for"? This applies to almost anything. When it comes to choosing an electrical contractor, selecting the lowest bid for your project doesn't always mean you're saving money. As a matter of fact, in a lot of cases, it can be counterproductive. This is where the importance of licensing and insurance comes into the picture.
Licensed electricians are workers who carry the proper insurance. This is actually required by law. This means they will be compensated should untoward accidents and injuries happen to them while doing their job on your premises. This also means you will be well-protected from any liability and will not be paying the worker's compensation if an electrical contractor suffers an accident or injury while on the worksite. Likewise, the insurance will pay for any damages if something goes wrong while they are doing their work. Bonds, on the other hand (a form of insurance), will provide you with coverage should the contractor's workers abandon the project before it is completed.
Additionally, should any other workers join your commercial electrician to provide assistance on the project they're doing, make sure that the lead electrician (or your electrical contractor) has these people on their payroll? This means these additional staff members are actually covered by the contractor's workers' compensation should any bad things happen, and you will not be held liable.
Don't be afraid to ask about your contractor's copy of insurance certificates. This is actually pretty common and must be readily available to you.
Electrical contractors with the right license and insurance may be a little more expensive. But you can feel confident about their quality of work, their safety, and your establishment's protection and security.
Assess Their Credentials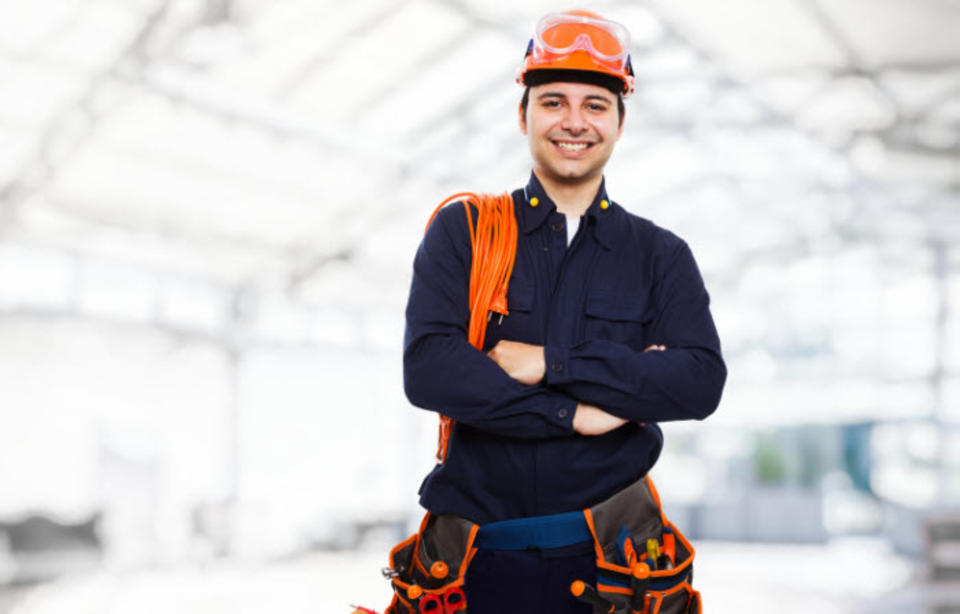 How do you choose an electrical contractor for your business? (Image Source: Lincoln Tech Blog)
A licensed electrical contractor means the company is qualified by the state to do anything electrical. Individual electricians can be licensed as either a 'Journeyman' or a 'Master Electrician'. Licensed electrical contractors in Denver, Colorado, have successfully completed electrical theory within a classroom and state-required practical knowledge. Steps include an apprenticeship, four-year classroom training, thousands of in-field hours and multiple levels of testing through the Colorado State Electrical Board.
It is important that you ask for the company's licenses, along with the typical projects they offer, and the kind of jobs they have handled in the past. You don't want to be their "biggest job". One tell-tale sign that shows they may not be ready for big projects is when they ask for large down payments, or ask you to purchase the materials yourself.
Read Reviews and References
Try to find out as much as you can about the company and their workers. You can even ask the contractor for references. Call their previous clients and assess their work from the comments of these people. This may be time-consuming, but it's a great way to evaluate their expertise and professionalism.
Why Hire Lightning Mobile Electric?
Are you in need of an electrical contractor? Check out the electrical services from Lightning Mobile Electric; you will feel confident any power issues you have at your business will be addressed with quality and your budget in mind. We provide free estimates, at no obligation and offer 24/7 emergency service when your business just can't wait.
Contact us so you can learn more about how we can help. You can reach us via email at customerservice@lminc.net or call us at (303) 595-9559.